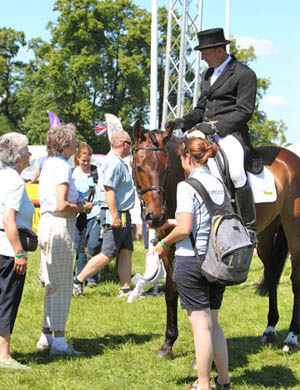 It's nice to be back at home and not on the road so much now until the autumn. I am still gutted about Bramham, particularly for Carol and Veronica but also for Harry/myself as I was looking forward to finding out a lot more about him. Never mind, it's done now.
This week has all been about cracking on with schooling horses at home and catching up on maintenance jobs in the yard. I've also got a couple of nice young horses come in for breaking which will keep the girls and me entertained. Many of the girls enjoy learning the skills of breaking in young horses and I enjoy working with the young horses myself, alongside expanding the girls knowledge and experience.
The first challenge was to get the horses on the lorry to bring them to our place. We went prepared for it to take a while and, armed with people and brooms, thankfully the horses were very good and travelled well which was great given they'd never 'left home' before.
I'm off cross country schooling tomorrow with Minty and Robbie. Minty's still young and given she's not been out for a few weeks I thought I'd take advantage of the fact Ascott Under Wychwood is nearby and still has much of its course flagged from the BE event last weekend. It will help to get her back in the groove and thinking forwards.
Robbie on the other hand is just beginning his cross country education in preparation for his BYEH outings starting in approximately a month. He's seen water and a little bank and ditch a couple of times but I want to introduce him to a variety of small solid objects and Ascott Under Wychwood is one of several ideal venues near to us.
We are off to Great Tew at the weekend which is another nice local event so I will keep you posted on how things go.
Cheers,
Bill
Posted 8th June