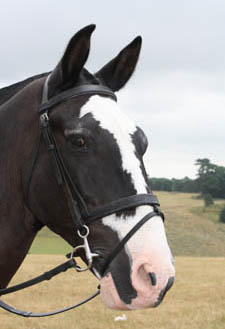 It's with mixed feelings of both happiness and sadness that we've had some changes on the horse front at home.
In summary Bailey has gone home to enjoy a well earned retirement as at 24 years young all feel he has earned the right to hang up his eventing boots. He has been a complete star as a horse on which many of our working pupils have gained great experience and, importantly, had fun. We all decided that it is best to retire him while he is still fit and sound and enjoying life. He has gone home to the Gardener family who've owned him throughout his life; he is a real member of their family and we owe them huge thanks for loaning Bailey to us over the last couple of years.
In Bailey's place Bertie has joined the team. He belongs to a good friend of ours, Miranda, and she has kindly loaned him to us for our working pupils to event and learn on. He's a beautiful grey horse and loves work and food in equal measure – he will be great at giving the girls experience and confidence.
In addition we have also been lucky enough to be given on permanent loaned Patch Adams (Patch), an event horse that belongs to the Kemp family, who is 14 years young and has previously competed up to  two star level. Jenny and the girls will have fun on him – again he's a horse that enjoys his work and should provide us all with a lot of fun. We are grateful to the Kemp family of the opportunity of having him.
So as ever things never stand still. I'm off cross country schooling which should be entertaining, especially with Robbie.
Cheers,
Bill
Posted 9th June