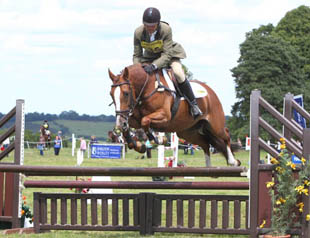 Just back from Great Tew, one of my favourite local events and to cut a long story short I ended up on the deck again! I'm not fallen all season and now I've had two tumbles on the trot – let's hope the superstition about things happening in threes doesn't apply to this!
Anyway my tumble doesn't do justice to what was quite a good day. I was riding Minty in the BE100 and she did an OK dressage, just getting a little deep and anxious at times, but she's not been out for a few weeks and she's still green. She then jumped better in the show jumping for a clear round around a track that was causing its fair share of problems. I had taken Minty cross country schooling in the week to get her back in the groove after a couple of weeks of not competing and she had gone well. So I set off optimistic for our round and to be fair she gave me a much better ride, more settled and less green than previous events until three from home where she shied one stride out from a fallen tree jump in among some trees – I think she shied at the fence judge's car – anyway  I ended up on the fence and she ended up head butting the tree. We were thankfully both re united and unhurt bar a sore head for Minty and a minor nose bleed – hence I decided to walk her home off the course. One of those things but annoying as she had been going well, but these things can happen with young green horses as they learn their trade.
The girls on the other hand had a good day, Eleanore and Mary both jumped double clear in the BE100 and Jenny and Mac completed their second Novice outing together.
I'm back tomorrow with Alex and Dan in the Novice and Fin in the Novice Regional Final.
Cheers,
Bill
Posted 11th June