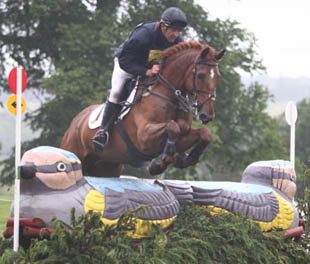 I'm not going to complain about the rain as its exactly the type of rain we need at the moment, but it's a long time since I've been this wet at the end of a day's eventing!
I had Alex, Dan and Fin (pictured) at Great Tew today and the day went OK but it wasn't brilliant. Alex and Dan did nice tests and I was pleased that both are beginning to be more established and relaxed in their work. They then jumped well but I had the last fence on them both which was frustrating as I felt they were jumping clear rounds. I then took them steadily cross country as with a rail I thought they were both out of the money and they would come on from the run but we wouldn't chase the time. So all in all a good performance from both horses – Alex continues to gain experience and develop at Novice level which is still a relatively new level for him. Dan feels much more confident in his partnership with me and will now progress on to Intermediate level to see how we get on.
Fin was doing the Novice Regional Final and I was really hoping with the way he has been going that we would gain a qualification for the Novice Championships but it was not to be. He warmed up nicely for the dressage outside but it all rather fell apart in the arena –not helped by me turning the wrong way up the centre line the second time. It was frustrating as he can do a lovely test, but he's still young and I know he will do a nice test and be competitive at Intermediate level for sure so I just have to take a breath and think about the bigger picture – I was just hoping for Francis that we would get a ticket to Gatcombe. As we were way down the order after the dressage we went slowly cross country and he jumped confidently around, and yet again I had four fault-itis in the show jumping – that last fence down after Fin had jumped a super round to that point – grhhh!
It's another varied week at home, we have a couple of new arrivals tomorrow – more on that later in the week, and then we are show jumping on Tuesday at Allenshill and dressage at Hunters on Wednesday, cross country schooling on Thursday and  gallops Friday, before heading to Catton on Saturday.
Should be another good week I'm hoping with the three day horses also coming back in to work this week.
Cheers,
Bill
Posted 12th June