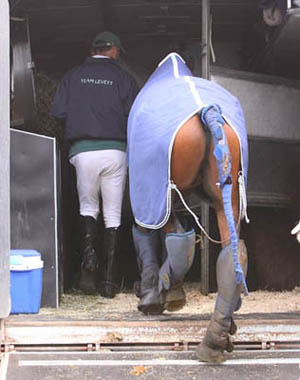 There is never a dull moment at the yard and no two days are the same which I enjoy.
Yesterday I took Robbie and Minty cross country schooling and Darian and Issy came too. Darian had a confidence boosting canter round after her tumble at Aston ahead of her run at Catton this weekend and Issy had a first cross country school on Bertie. I'm not sure who enjoyed it more with Issy grinning from ear to ear and Bertie finding in hard to contain himself with little bucks of excitement.
I wanted to bring Robbie on in his education with some more cross country schooling ahead of his first Burghley Young Event Horse qualifier at Barbury and Minty needed to get back in the groove after her blip at Great Tew and incident at the fallen tree jump. All went well and benefited from the schooling session.
Today we've been to the gallops as I want the horses to be back in the groove ahead of their run at Salperton next weekend. The likes of Tim need to go up the gallops a couple of times ahead of Salperton even though his base fitness is good as getting his heart rate up and galloping a couple of times will set him up well ahead of a gentle run around Salperton. Silks and Harry need to get back in the groove and similarly get their galloping legs reenabled post their three day runs and Fin needs to build his fitness as he's now moving up to competing at intermediate level. We tend to canter our intermediate and above horses once a week if they are in a one day programme, obviously increasing this if they are on a three day programme.
This weekend we are at Catton on Saturday; I'm riding Minty and Moose and the girls and Jenny are also competing. Sunday's an important day as I get to see the kids compete (for the first time as I'm usually away) at a local show.
Will keep you posted.
Cheers,
Bill
Posted 17th June