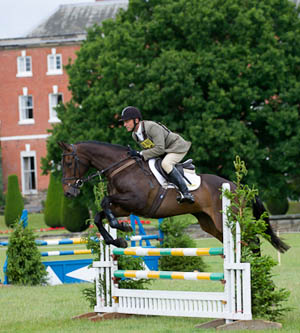 We've had a good day at Catton Park. I really like this event as they have some nice courses and as importantly they have done a huge amount of work on the ground over the last four or five years. It has been great to see the improvements and them being rewarded with strong entries.
I had Moose and Minty today, Jenny had Bluey and Mac and Darian and Thea were also competing.
It was a good day – Darian and Thea completed their first Novice which was great! I was really pleased with how they both rode in the show jumping – best I've seen them ride at a competition and each of them just roled one pole. They both then went well cross country, going clear – so they must be thrilled and I'm happy to see their progress as they've worked hard and applied themselves over the last year or so.
Minty went much better today, she was more relaxed in the dressage and show jumping. She roled one pole but jumped a nice round and she then went much better cross country, for a more confident clear. So I was pleased with her and the schooling in the week after our blip last weekend paid off.
Moose (pictured) was the star of the day coming second in the Novice. He did a nice test and then jumped a double clear! Yes his second clear on the trot after a year of having the odd rail. I hope he's beginning to turn a corner, time will tell.
Jenny had a good day notching up her first point on Mac for a double clear in the novice and Bluey also went well.
It was a pretty wet day on and off but we managed to avoid some of the heavier showers.
I'm off to pick up Figgy this evening who has been away at stud getting in foal so fingers crossed that will all work out. She's in foal to Hand In Glove which we're all very excited about.
Tomorrow is Armscote Show so let's hope the weather holds up and I find a turn of foot (not that I'm a competitive dad)!
Cheers,
Bill
Posted 18th June – photo Trevor Holt