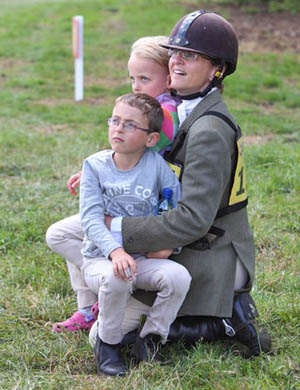 It's been another good day for Team Levett – I attended my first show with the kids today. We went to a little local show in Armscote: Josh and Urssie were joined by James, a friend from school, and they all had a fun time, each one of them coming home with a win which was great.
Josh won a trophy in the minimus jumping, just pipping his sister in the jump off who finished second. Urssie then won a bending race and James did the same beating Slipper and Josh across the finishing line. The rain held off and Angela and Simon (Jenny's sister), their kids, and our good friend Miranda along with James parents Caroline and Andy joined us for the day and all had a good time with a great picnic enjoyed by all thanks to Caroline who is super mum!
Jenny also had her first (and I'm hoping last) taste of working hunter on Bertie – she sadly didn't emulate Miranda with a win (who Bertie belongs to) as a pole down in the jumping phase left them down the line in 4th place – but worryingly both Jenny and Bertie seemed to be smiling too much for my liking – she's threatening to enter me but I doubt she will be brave enough to do so as she knows I would nap and the entry would be wasted!
I also found out that Moose won yesterday at Catton Park which was very good news.
This week I'm at home working the horses and also doing the JumpCross Eventers Challenge on Tuesday near Peterborough with Dan and getting some dressage practice in at Hunters on Thursday with the two and three star tests for Barbury.
I'll keep you posted.
Cheers,
Bill
Posted 19th June