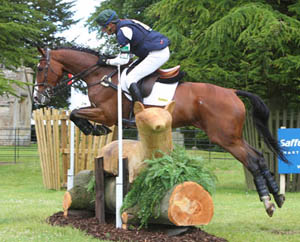 It's been a good day's work at Salperton today, I had five horses entered but sadly had to withdraw Harry at the last minute as he's not quite right having jigged up a splint. So he will need an easier couple of weeks to help it all settle down. Nothing major but one of those things that just needs a bit of time. Frustrating for the owners and team as Harry didn't complete Bramham and we are all keen to crack on with him and prove his talents as I'm sure he has it in him. Never mind, that is horses.
We still had a good day at Salperton – it is one of my favourite local events. The setting is wonderful in a lovely park and the terrain is interesting, surprisingly hilly with a big pull near the back end of the course in the intermediate. The tracks are always interesting, beautifully built and pretty up to height. The ground this year was perfect, the best of the season as they'd done a fair amount of preparation and we had a huge amount of rain in the preceeding 48 hours which had left it spot on. The most challenging line on the cross country for my money came at about fence 11 with a corner followed by two additional accuracy questions; the line was really difficult if you went straight-straight and on Fin I gave it a go. He was very honest to jump it but it was not a pretty, comfortable line for me or the horse and so I made some adjustments with the other horses and it rode better. The show jumping was also up to height and fairly technical with quite a lot of atmosphere from surrounding trade stands.
Fin and Dan were both in the intermediate and Fin tried hard in the dressage and did a better test. Dan was more settled but was still off the pace in the dressage but I hope it will come. They both then had one down in the show jumping but jumped well and tried hard – frustrating to have a rail on each of them. They both then went very well cross country, I was really pleased with them as it's a big up to height track with a lot of questions and they responded really well and gave me a good ride – very pleasing.
Silks also did his dressage, he has the rest to come tomorrow.
I was also really happy to have Tim out again. He was doing the AI and this run is the first chapter of his Burghley preparation. He's on great form and I really feel my partnership is beginning to form with him. He tried hard in the dressage and didn't blow up as he had at Hunters a few days previously – and scored a 32.5 which was pretty competitive in a strong section. He then went on to jump a lovely clear show jumping, just getting an annoying 3 time faults. He went really well, jumping confidently around the track. The exercises I've been doing at home really seemed to pay off so I was very pleased. I then ran him cross country as the ground was so good, we just went steady but he cruised around not getting strong and giving me a great ride. He is plenty fit enough as he's had several trips to the gallops recently and has been jumping consistently all year.
So a pleasing day with the horses; no rosettes but they all went very well. It was a good day with lots of class horses out and about having their first run since their spring three day, most notably Badminton.
Back tomorrow with Alex in the Novice and Silks to complete his Intermediate.
Cheers,
Bill
Posted 25th June