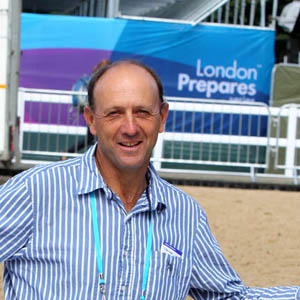 I spent 36 hours down at the Test Event in London on Monday afternoon and Tuesday. It was very worthwhile attending as I felt I got a chance to see the facilities at first hand and get a sense of how the event will run, where everything is, the main arena and importantly the terrain of Greenwich Park.
The facilities are very compact and it is hard not to be struck by how small the site is on arrival. However the main arena is an impressive set up and the feedback from the riders I spoke to was that the temporary surface rode well for the both the dressage and show jumping phases.
I was surprised by how small the park footprint is and how undulating it is. It looks like the cross country time will be difficult to get as the course is very up and down with many turns and twists and I fear the ground could be slippery as it seems there could be quite a few turns to get the distance needed for the cross country test within a fairly confined space. The crowds will be very close to the action which will also make a big difference as a rider, but be great for atmosphere of the overall event. The  stands will hold approximately 24 thousand people I think, and I've heard that next year the hill on the cross country might be used up to 3 times – it's not a  long pull but it's very steep and might take the legs from the horses. I think it will be a unique event and require a fit, athletic horse that is light on its feet and doesn't pull/you can easily adjust.
I've come away from the event with lots of food for thought and my mind whirring. But quickly back to reality with a yard full of horses to ride which is also exciting. I've had a productive day at home training with the horses along with dressage lessons for Coco and Hipp with Bettina which I found, as ever, very informative. Tomorrow I'm at Barbury for Robbie's eventing debut in the BYEH 4 year old class – it will be interesting to see how he copes and takes it all in. I've also got Fin and Womble doing their dressage for the CIC2star. Then it's back home to ride more horses and get well set up for the coming events.
Exciting times and I'm feeling very motivated about the coming few months ahead.
Cheers,
Bill
Posted 6th July