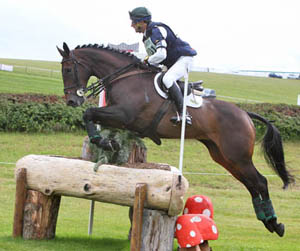 It was an early and rather wet start this morning as I wanted to ride some horses at home before heading to Barbury. The heavens opened and we had the kind of down pour I'd more often expect in Australia. Anyway with a change of clothes I was on my way to Barbury.
It was a wet and blustery day. The ground was good when I walked it in the morning but seemed to be drying out fast with all the wind, but it was rainining again as I left and there'll be more rain overnight for sure.
Alex and Moose were both a little tense in the dressage so we weren't leading the dressage but I was surprised that we weren't that far of the pace either – the good bits did feel good so I'm sure that must be why!
Alex went very well but he is still just six and my focus is on slowly giving him more experience. He rolled a pole in the show jumping which I'm not worried about, he's a good jumper. On the cross country  the water, as predicted, was causing  some problems; a  turtle off a drop into water, 3 strides and then up a bank, 1 stride over another turtle. Horses just backed off as there was a lot for them to take in.
Moose tried very hard – he was doing the retrained racehorse class which was a hot section. There were several advanced horses in the section and dear Moose was doing his first ever Intermediate dressage and show jumping so I feel he held his own. He nearly jumped a clear showjumping, one miscommunication sadly cost us dear. Then he was very good cross country, easily making the time.
I've walked the 2 star and 3 star cross country tracks. I think the 2 star is a little softer than in previous years – I'm hoping I don't regret saying this as the pressure's on for me to get Womble and Fin qualified tomorrow. I think the 3 star is  a lot softer but I'm not riding it so maybe it's easy to say. There are lots of good riders and horses at the event which is always nice to be part of.
I'm back tomorrow with Womble and Fin and it's then home to ride the advanced horses and a day of riding and being at home to look forward to on Sunday.
Cheers,
Bill
Posted 8th July