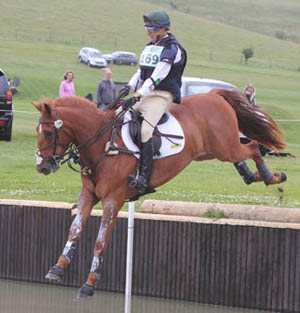 Had a good day at Barbury on Saturday. Pressure was on to get Fin and Womble qualified with a CIC2star under their belt. It was never about winning as both of them are only 7 and very low mileage – only three intermediates between them pre this class and there were many experienced advanced horses in the sections each with over 100 entries.
I was very proud of both horses as they both tried really hard, making my job easier in securing their qualifications.
Fin got a little tense in the show jumping at the combinations which meant I couldn't get in to a consistent rhythm which didn't make life very easy so he had a couple of rails, but he jumped some fences well. He then tried hard cross country – he was a little green to start but once he got in to the swing of it he gave me a good ride through the water, jumping in very boldly.
Womble went like a top, jumping a lovely double clear. He made it all feel very easy and is a horse I'm quietly excited about with a big future ahead of him I hope.
It was then nice to watch some of the 3 star dressage and 2 star cross country. I saw some very good and very mixed dressage, Laura Collett I think is one to watch and certainly could be one heading to Greenwich.
We headed home on Saturday night and Sunday was spent working horses at home and teaching the working pupils. I'm glad I had scratched Harry from the 3 star (given his splint) as it sounds like it was not a great day there on Sunday, with 5 out of the first 15 horses falling in the water, long holds on the course and some sad horse injuries before the fence was taken out. I cannot help wondering if the fact that the water is man made and that the surface had over 200 horses going through it in the other direction the day before had something to do with it. Horses were just landing in the water and crumpling. Awful.
Let's hope they take some action and completely rethink it for next year. I'm praying for this as it's the venue for the Aussie final trial pre the olympics.
Cheers,
Bill

Posted 9th July