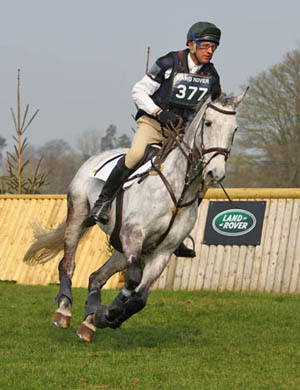 I had a long but very productive day at Tweseldown today. It is a very popular venue and is always well supported. It had four full days of competiton but I was just there for the last day with Dan, Silks and Ricky in the intermediate. I also took Sunny and Alfie to school around the intermediate cross country at the end of the day.
I was really pleased with how all of the horses went. Only Silks ended up in the money but that was never a focus or part of the master plan. Silks came fourth with a good dressage and steady double clear; the cross country was strong enough and caused a lot of problems so he ended up 4th even with a steady time.
Dan was a little more settled in the dressage although it is still work in progress. He then was unlucky to role a pole in the show jumping but gave me a good ride cross country. He is learning to go across his fences and make up ground in distances which is promising.
Ricky, a new ride for me, did a nice dressage, clear show jumping (he's a jumper) and then we had an annoying 20penalties on the cross country bouncing out of the sunken road. He gave me a good ride other than that and I'm not concerned. The partnership will build and he already feels like a proper horse.
I was also really pleased with Sunny and Alfie who I schooled around the intermediate at the end of the day. Both gave me a good ride jumping around clear which was pleasing and helps set me up for their upcoming first competitive events with me.
If you've not been to Tweseldown before I would highly recommend it. The ground is sandy everywhere and the dressage arenas are nice and flat. Everything is on a compact site but it works very well. This year's cross country courses were up to height, there was a strong sunken road complex with a short bounce out, and also two decent corners – one after crossing a little bridge so you had hardly any time to get your distance, plus there were some big ditches and two big trakeners. Overall I thought it was a big but fair track.
Cheers,
Bill
Posted 11th July