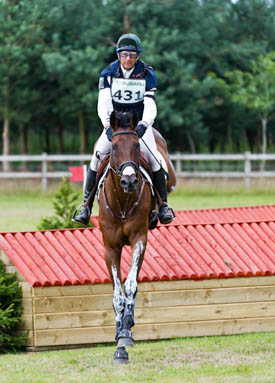 It's the end of a long day at Cholmondeley Castle and in short it's been a mixed one. We had a crazy early start this morning as I wanted to allow plenty of time and ensure I didn't get lost given it was a new event and I'd heard there were roadworks en route! Also I needed to walk the course before I started riding as it was a busy day with five to compete – exciting!
I walked the course and was both impressed with the track and somewhat taken aback – I thought it was big but fair and thought maybe I was going a little soft in terms of my sense of what big and technical looks like! The fences were well presented and the ground was also OK, it is light and quite sandy and so broke up well although it would have been nice to have had more rain; given that, it was as good as could be expected without any significant rain to speak of.
The setting for the event is really stunning, with the show jumping taking place in front of a beautiful  backdrop of the Castle. It was up to height and quite poley, with light poles causing lots of fences to roll and not just for me! They have also made very good use of the land in the cross country which provided some testing lines and interesting combinations.
The cross country was, as I've said, big and technical but fair. At fence four there was a brush fence to a skinny skinny, followed by another brush fence on a bending line which required accuracy, control and a horse that holds a line well. There was a log drop down a steep bank in to water on a related distance to a wishing well in the water, and there was also a good old fashioned coffin fence which was great to see as we don't see as many of them anymore. The distance to the wishing well didn't work well for me all day and also led to several jockeys taking an early bath. I was lucky to be able to sit tight on all of mine over the well despite only Dan jumping it cleanly but I was grateful not to get a ducking!
Fin and Dan showed improvement in the dressage, Dan was more relaxed again and I think the work is definitely coming as he gains in confidence in the movements and learns to trust me more. Womble tried hard and the quality of his work is definitely improving, he scored reasonably well and was not far off the pace after the dressage. Sunny and Alfie (pictured) were the stars of the dressage phase – both are impressive big moving horses and I felt while they did good tests there is still much improvement to come from both of them which is exciting.
The show jumping was another story. Finn was much more settled; we have been experimenting with bits given he has narrow bars in his mouth and we'd taken some bitting advice – he seems much, much more comfortable in a Cheltenham gag with a rubber eggbut snaffle – perserverence is paying off and I'm glad we've now finally found a bit that he seems happy in. This has really improved his rideability to a fence and he gave me a better ride around the track. We had two down but that was a reflection of one particular line on the track where Finn got a bit confused at what I was asking of him.
Dan and I then had a round to forget, he's such a careful horse and feels to me like he's still getting confident with the bigger fences, so I'll move swiftly on… but unfortunately Sunny and I also had a round that didn't go quite according to plan. For whatever reason he just had an off day and tipped out a few rails with his feet in front and behind, I'm going to put it down to lack of match practice eventing – he's been jumping well when I've taken him out show jumping but he's a clever horse and knew today was more than just show jumping – work in progress I think is my description of our round, but I'm confident we will crack it together. Womble and Alfie 'saved the day' both jumping fantastic clears – a big boost for my confidence and very pleasing.
ALL of the horses then went like complete stars cross country – I couldn't have been more pleased with them over what was a very big track. Finn and Womble are still inexperienced at this level and they both tried their socks off –they kept straight on their lines and kept going even when they were unsure of a new experience eg at the coffin and the wishing well in the water complex. Alfie and Dan gave me good, confident rides and both in their own style felt confident and good cross country horses. I was also really pleased with Sunny who just got better and better as I went around the track, jumping the coffin like an old pro – again pleasing. Alfie and Sunny (who are more experienced) felt like horses that will gallop around a big track easily in time, they both have a big length of stride and feel very athletic and like they've got big engines. It will be interesting to see how the younger ones (Fin and Womble in particular) come on from this run which would have challenged them mentally as it was definitely the toughest track they've faced to date. I'm glad Aston is their next run as that should hopefully be a little less taxing for them.
So no prizes today but a very productive outing and overall lots to be pleased with and lots to keep working on!
Cheers,
Bill
Posted 31st July – Photo Trevor Holt