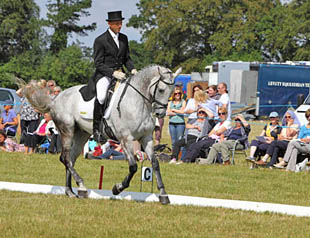 Today is the start of the Gatcombe Championships and I had Silks doing his dressage test. I decided not to take Robbie to the BYEH 4 year old class this morning as I wanted to have more time at home working my horses and I'm also pretty convinced they wouldn't have liked him. He's a great model of a horse and I'm glad Jenny and I got him to bring on as an event horse but he doesn't seem to do well in the BYEH classes, I think because he is still a young horse. He looks like a four year old and many of those that seem to do well look much more polished and more like 5 year olds. I'm not worried, in time I'm sure he will be a proper event horse and I was very pleased with how he went in the 4 Year Old eventing class for young horses at Homme House the other day.
Silks did his test this afternoon. For only his second Advanced I was very pleased with him, he's still only just getting established at this level and so there is much improvement to come. He bucked in both his changes which would have lost significant marks but some of the work was nice and he was pretty relaxed. He scored 33 to leave us in 13th after dressage which is pleasing especially as he was up against some very established Advanced horses.
I've not yet walked the course but I've heard that the ground is good and has benefited from the rain of the last 24 hours or so, I hope there's more rain overnight over the next couple of days to ensure the ground doesn't dry out too fast. It was a quick turn around to come home and ride more horses later this afternoon.
Back tomorrow for Coco, Harry and Ricky dressage and for Silks show jumping and cross country so expect a full report tomorrow once I've had a chance to have a good look around the tracks.
Cheers,
Bill
Posted 5th August