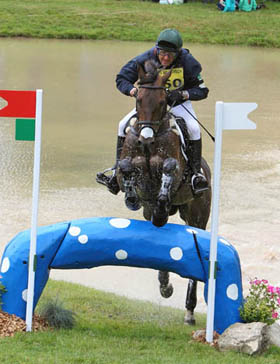 Gatcombe as an event always puts on a good show for the spectators and today was no exception. The setting is fantastic for the cross country and the main arena also sits in a great location and it's fun to see the stone walls being made use of as seating – health and safety hasn't killed that off yet! Sadly the sun didn't shine as much as we'd all like especially in the morning but that didn't dampen the spirits or turn out of the crowd.
Anyway back to the horses Ricky and Harry did their show jumping first and the Intermediate Champs course caused a lot of trouble with I think only four clear rounds. I personally found the Open track easier to ride and more flowing than the Intermediate and from talking to other riders I was not alone!
There was a red bus poley upright which just didn't seem to jump well, not sure why maybe the line, maybe the buses at the base causing the horses an extra look, anyway it seemed to keep falling and not just for me!
Ricky had two down; he actually jumped a lovely round, one pole was unlucky, hardly breathed on it, one of those things and one was me. It was never part of the plan to run cross country so although the rails were disappointing I learnt something more about how to ride him in what is still a very new partnership.
Harry had four down but despite this jumped most of the round well. We had our problems all in one line where he had all three parts of the treble which was a real shame. He's also still only a 10 year old and has little mileage at this level so hopefully will continue to improve with time. He then went really well cross country. I let him move on as the ground was good benefiting from the rain and the track was a good test and fitness run for him in preparation for Blenheim. He has a huge stride and scope and doesn't pull so is actually a very fast horse, so he finished well with only a couple of time faults. He also felt ready for Blenheim mentally which was reassuring after our whoopsie at Bramham.
Coco was the last of my rides today and he also went well, jumping a beautiful show jump round. He is such a competitor and seems to always come 'up for it' in the ring – a pleasure to ride, and I always feel like such a proud 'dad' when I have moments like this with him, having produced him since a young horse. Despite being competitively placed we didn't run cross country – it was never part of the plan as he heads to Hartpury CIC3star this coming weekend. As an aside it is so frustrating that these two great events are on back to back weekends! I will never understand the BE scheduling: I'm convinced it's not put together by someone who thinks about it from a rider/horse point of view – as like London buses advanced tracks seem to be absent and then they all come at once!
Outside of Gatcombe this weekend it's been busy at home preparing the Hartpury, Blair, Burghley and Blenheim horses. Myself and the team are working hard on their schooling and fitness programmes – it's in month's like this that I value the depth and experience of my back up team, invaluable.
This week sees Sunny, Ricky and Coco at Hartpury and also a run for Fin, Alfie and Womble at Aston in the intermediate. Before that we are at West Wilts with the young horses and working pupils. Lots going on but all good.
Cheers,
Bill
Posted 7th August