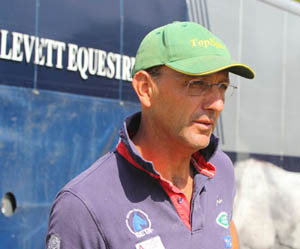 Just back from West Wilts where Jenny, I, Thea and Darian were all competing. Over all it was a good day.
Alex was the star of the day, leading from the front to win his section – he is really maturing in to a lovely horse which is exciting for the future. Jenny also got her final qualifying result which was great news with Mac and jumped two double clears with Patch and Bluey.
Thea and Darian had a good day – although both of them managed a little excursion on the cross country, suffering from a sat nav failure of number reading which was a shame as they both jumped very nice cross country rounds. Minty also went well with a nice double clear – she continues to gain confidence and experience, I just wish she would learn to relax and chill a bit more she's a tense and quirky little thing. Not nervous just uptight – I'm hoping she will mellow with age as she's only 6.
They've made some great improvements to West Wilts, not least the investment they've made in a large all weather show jump arena and warm up. This has a lovely surface on it which was much appreciated. They had also made a lot of changes to the cross country tracks providing some interesting and educational fences for horse and rider in both the Novice and BE100 tracks – well worth a return trip and I'm grateful to the organising team for their ongoing investment in the event/facility.
It was a swift turn around to head home and ride the horses I have heading to Aston and Hartpury this week. An exciting week ahead which I'm looking forward to – I wouldn't be able to do it with out my extended back up crew – thanks to them, one and all.
Tomorrow see's an early start as I head to Hartpury early to get Eleanore and the horses (Ricky, Coco and Sunny) settled in for the week. Then I will drive by car on to West Wilts to meet the little blue lorry kindly piloted by Clare and the girls. Robbie and Dotty are doing the 4 year old class and Issy is running in the BE90. I'll then drive back to Hartpury for Sunny's trot up and to work the horses. I can take no credit for the plan – my job is to ride and prepare well, Jenny and the girls fix the logistics and all the rest!
Cheers,
Bill
Posted 9th August