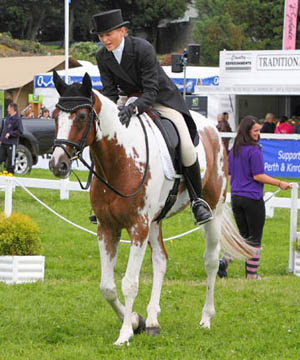 As I write this the rain is coming down hard at Blair, I just hope it clears up soon as I need to get out and walk the two star track. To be fair it's been a beautiful day until the heavens opened in time for my test on Fin.
I was very pleased with Fin, he was first to go in the 2star and scored 50.2. He did everything I asked of him and for where he is at in his training went well. I'm hoping to get his two star qualification around a track which will be tough enough but where the ground will be good (as long as the rain stops!)
Jenny also did her dressage today on Mac; her's took place in the sunshine and despite the midges Mac held it together to score a 48.3 which Jenny was really pleased with. Mac had been pretty unsettled since arriving here but seemed to rise to the occasion and settle in time for her to go in the ring. Really pleased for her. She is lying in 15th place going in to the cross country, a very credible position.
The event won't be a dressage competition, in my opinion the waters on all three tracks are tough enough – fair but will require accurate commited riding.
More on the courses once I brave the wet weather! Alfie does his test tomorrow morning and Jenny runs cross country.
Cheers,
Bill
Posted 18th August