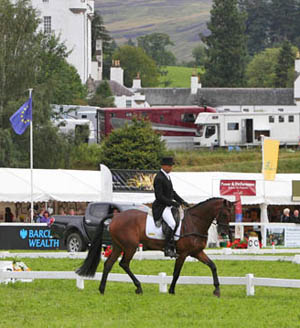 Heavy overnight rain left everything very wet here but the ground on the cross country really seems to take it and still seems very good.
Alfie did his dressage this morning and tried very hard for where he is at in his training and partnership with me. He's an exciting horse to ride as there is still much to come and I know he has the potential to do a stunning test in years to come. He ended the dressage phase in joint 10th place and I'm in 12th on Fin, which was also very pleasing.
The cross country has plenty to do, lots of big bold fences which will require forward accurate riding, for example a large airy log trakener at fence 5 on five strides to a corner, you will need a brave and confident horse to take it on. The ground is perfect and it's the kind of track I'm looking forward to riding.
Jenny did her cross country today which went OK although Mac let her down in the early part of the track trying to nap back home and not being very generous at a couple of early fences. After she gave him a wake up call and he got away from the start area he got in to it and with some strong riding she got around.
Tomorrow I don't go until the end of the day, until after the young riders and 3 star classes. I'm praying for no more rain as without more rain the track will be spot on.
Cheers,
Bill
Posted 19th August