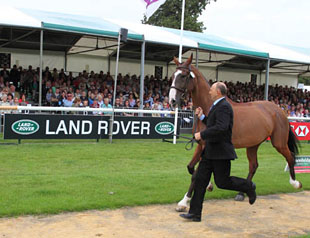 It's been a good day; Tim passed the trot up and was very excited to be back at Burghley. Tim is usually a gentle, laid back horse but today he turned in to a fire breathing model as soon as we went in to the main arena!
I always find the trot up nerve racking, particularly with Tim given his stringhalt which can often result in gasps from the crowd. He's known for it by both FEI vets but it can look quite odd when you first see him move off.
It was nice to see that Tim was excited to be at Burghley in a funny sort of way, despite the challenges that resulted – I struggle to keep up with Tim when he decides to do extended trot during the trot up! Its reassuring to know the horse loves it all as much as me.
Anyway trot up over.
I also had a chance to walk the course today. The ground is very good at the moment, and my first impressions are that the course is very big but not as technical as it has been in the past. The first water jump second part will take a brave horse to jump in and hold a line. The whole course will I think take accurate riding out of a nice rhythm and if your horse is ditchy them you won't be having a great round. I'm hoping the track should suit Tim if he's on form and 'with me'.
For now though the focus is on dressage and we are up at 1254 on Friday, last slot before lunch – not a great slot as the judges will be hungry but I'll do my best and I'm hoping by then Tim will have got tired of his fire breathing antics!
Before I sign off I must say a big thankyou to my whole back up team for getting me here – Nick our farrier, Tom our vet, Maggie and Anna our physios, and all the girls at home led by Eleanore. Without them I would never have got here.
Cheers for now.
Bill
Posted 1st September