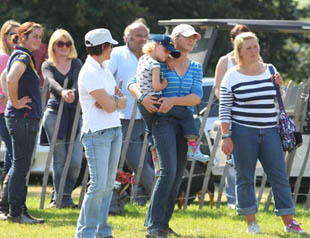 It's been a disastrous day at Burghley. In short Tim and I didn't make it round and I feel like I let him down. Tim didn't deserve to end his career like this – gutting.
We fell at the Waterloo Rails. Until that point in the course he had been travelling really well, had been giving me a great ride and was on his minute markers. I just didn't get the shot I wanted to the fence. The fence had a few lumps and bumps in front of it and so it made getting a shot tricky. However the bottom line is I didn't ride it well enough and paid the price. Not good riding on my part and I'm gutted I let the horse down.
Cannot believe I made such a stupid mistake, I so wish I could wind the clock back and do it again.
So Burghley is over for me and Tim will now head home for his retirement. Thankfully neither Tim nor I are injured so there are some things to be grateful for and it's been a big wake up call for me.
We'll head home in the morning and regroup ahead of Blenheim.
Cheers,
Bill
Posted 3rd September