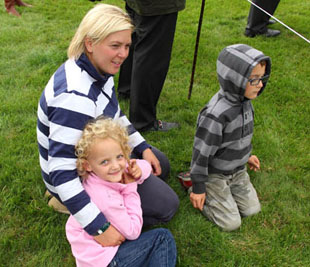 We packed up and left Burghley bright and early this morning – there is nothing worse than hanging around at a three day event when it hasn't gone to plan. I was keen to get home as was the rest of the team and it was nice to get Tim back home and comfortable out in the paddock with his head down grazing.
The frustration hasn't yet gone away about the cross country yesterday but I cannot turn back the clock so I've just got to get on to the next thing. The only good news is that Tim, who now retires, will start the next chapter of his life a sound and well horse which is a big bonus.
We arrived back home late morning and once the lorry was unpacked quickly got focussed on preparations for next week at Blenheim where Coco and Harry are heading to do the CCI*** and Ricky is heading for  the CIC*** 8/9 year old championships. Coco is taking part in the team component of the event as the Australians are taking part in the Pan Asian event to try and secure our qualification for next year's Olympics – so it's a big week. Harry is having a crack at the CCI*** and I'm hoping he will go well – he has all the ability and I'm also hoping for good things from Ricky in the CIC. So lots to look forward to.
Meanwhile this afternoon Ursula put me through my paces, insisting I  build her a course to jump around in the school as she'd managed to talk her brother in to borrowing his pony. I then suggested marks for style and she quickly convinced me she should be doing time trials, so out came the stop watch and she then tried to beat her time as she repeatedly jumped around the course – with me ensuring the pony got a breather in between! She's mad keen on ponies and very determined, particularly as she seems to fall off every time she rides as she pushes herself so hard – she's only 6! What am I letting myself in for……..
Tomorrow I'm working horses at home in the morning including those going to Blenheim and then we are off to Boomerang for an Australian show jump clinic with Gilbert Bockmann which I'm looking forward to – I'm taking Sunny, Womble, Hipp and Alfie so it should be helpful.
Finally I have just watched the BBC coverage from my sofa this evening. William is a prolific winner and Parklane Hawk never looked like touching a fence. It was an exciting show jumping phase and the final results were pretty shaken up by the coloured poles. I was made up to see that my good friend Joy (Dawes) jumped a clear, a double clear at your first Burghley with only a smattering of time penalties cross country is a fantastic result – go Joy (and of course Fin her horse).
Cheers,
Bill
Posted 4th September