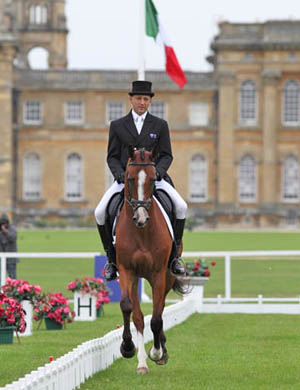 Today was an early start at Blenheim as Coco was doing his dressage this morning along with all of the other team competitors. It's a very odd set up and not one that any of the team members, be they competitors or management, seems happy about – but it is what it is and we have to get on with it. It's extremely odd that all team competitors have to go upfront in the first dozen or so horses, it makes it very odd to manage vs. the dynamics of a usual team event and generally not very satisfying as there are on a practical note no more than a couple of riders between horses/riders for each team – all very odd.
Anyway back to Coco, in short he worked in beautifully but with hind sight he had too much work so when I went in for my test he was slightly overdone and a little lazy which is so not like him – very disappointing, I was hoping for a good test as he has a very good dressage score in him. I ended up on a 52.7 which I was gutted about – he broke in one counter canter serpentine and that then impacted one change and he also had a fly in his ear in one shoulder in so was shaking his head – all in all gutting as the test overall lacked the sparkle I know he is capable of.
He is however still only 9 which is sometimes easy to forget, so he is still on the way up in terms of his ability and what he should be/is capable of as he's still becoming established in his work. I'm still gutted as I feel I've let the horse and his owners down, but I didn't expect him to react as he did – usually he gets in the ring and can get lit up and if not worked in properly is not rideable in the test – never mind I live and learn and I cannot change it now.
Thankfully it did not affect the team placings and the team are in first place ahead of the New Zealand and Japanese team, we need to finish ahead of the Japanese to secure the all important team qualification. Fingers crossed we all have a good day on Saturday.
My work is not yet done though as Harry and Ricky both do their dressage tests tomorrow so I'm hoping to have good news to report tomorrow evening.
Cheers,
Bill
Posted 8th September