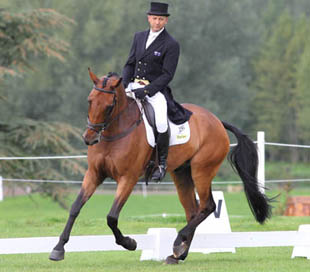 Today is was the turn of Ricky and Harry to strut their stuff in the dressage. Ricky is still a relatively new ride for me and we are still getting to know one another so I was really pleased with his test, he scored a 51.7 and ended the day in equal 11th against a strong field. We had one error in our test a break in the first medium trot, at the moment his canter work is stronger than his trot work and he scored well in the canter movements. The trot will improve as he continues to learn to take weight behind and get lighter in front. An exciting prospect.
Harry also tried hard. He finds the dressage difficult and is still not established in some of the movements. He scored 61 and I felt did a better test than Bramham which is reflected in his placing which is not at the end of the field! He is a great galloping horse who covers the ground easily so I'm hoping for a good ride around the cross country on him tomorrow and to pull up a few places.
I rewalked the CCI track this afternoon which still looks large and imposing. There is a big corner early on and several other testing combinations – I think the hills are a little kinder, although still very much present going the way around the track we are going tomorrow.
I gave all three horses a jump today and all went well, so bring it all on tomorrow I say.
I'm hoping for a much more positive report than last week for you all tomorrow.
Cheers,
Bill
Posted 9th September