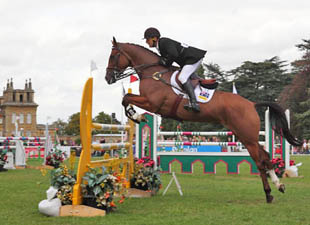 Today was one of those weekends when things just didn't go to plan and a few small errors proved very costly.
Taking each horse in turn Ricky jumped a nice cross country round today, and he felt a little bit more experience again having come on from his Hartpury run. He's still only young and this was only his second ever CIC*** and his third advanced run; he is on an upward learning curve and taking it all in. The big corner at fence seven was a tough ask and he took it on, mentally it will have been challenging and he will have learnt a lot from it. The time faults I incurred in the show jumping yesterday evening on him proved costly leaving us just outside the prize money and those all important FEI points.
Harry came out this morning well, he's a tough horse as he pulled a shoe yesterday and had lost quite a bit of foot but it didn't seem to be troubling him this morning, in part due to my great back up team – thanks guys, but also just the constitution of Harry. Harry jumped one of his best ever show jump rounds today. The show jumping was strong, up to height and square and Harry tried very hard – he had one rail down and a couple of time which was very pleasing as there were very few clear rounds. I feel I've really got a sense of how I need to ride him in the show jumping which gives me confidence and is satisfying. Harry will now have a holiday and we will have a think with Carol and Veronica about some goals for next year with him.
The pressure was on with Coco as in the team competition, where we were seeking Olympic qualification. The Japanese were one rail ahead of us going in to the jumping, Coco really delivered and I felt I kept my cool and rode a good round for a clear inside the time. It felt like a classy round – Coco is a great competitor and a great jumper which gives me a lot of confidence. It was all looking promising as the Japanese were having the odd rail and Catherine also jumped clear. However it was not to be as poor Brook had problems a fence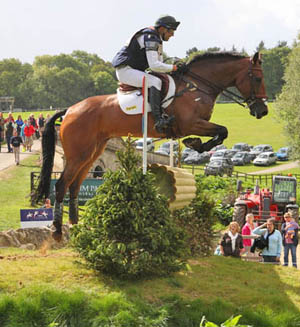 from home; his horse went green on him in the last double and ducked out at the second oxer twice and it was all over, devastating.
I personally feel that it was one of those weekends when a few things didn't go our way but fundamentally we were always on the back foot as we didn't have a fifth rider/team member which meant we couldn't afford for anything to go wrong and sadly just too many things did. So a costly result as Australia are now not qualified as a team – we now have to seek qualification through individual rider rankings, it should be doable but is not ideal.
On reflection I feel Coco has overall gone well this weekend. I know what I need to do differently in the dressage, and apart from our one blip he went fantastically in the cross country yesterday, finishing full of running and foot perfect bar our one misunderstanding. On reflection I think I trusted him too much – riding him like an experienced horse, rather than a horse that is still young although he has quite a bit of experience. He almost jumped in too well and so I had a 'nice shot' to the last element rather than me having to push and be very directive as many of those had to do when they'd maybe not had such a good jump over the first part of the combination – hind sight is a wonderful thing! Finally he came out fresh as a daisy this morning, cheeky as ever and jumped a cracking round.
A final note to Bettina, I was thrilled for her that she finished 3rd after what has been a very tough year for her – great outcome.
I'm now at home and will be for many weeks to come which I'm really looking forward to, I'm a bit of a homebody really and enjoy training the horses at home.
Cheers,
Bill
Posted 11th September