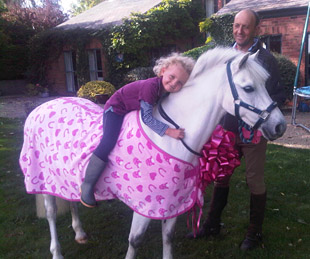 There's no rest for the wicked and I was back on the road bright and early this morning to be down in Wales for 9am. I didn't mind however as I was on an important mission, to pick up a new pony for Urssie. She has grown out of Basil who she has had since she was 2 and is ready for a second pony. We've been looking for a while and she has been very, very patient as Josh has had Slipper for a while. Anyway today her turn came and I collected Toddy. He's a beautiful little pony and we are very lucky to have him.
We surprised Urssie when she got home for school and her face was a complete picture – one of those very special moments. He even came with a pink rug much to my horror, but of course Ursula thinks it's marvellous and Toddy was long suffering about being dressed up in it!
Anyway Toddy is here and we've also found a lovely new home for Basil so all is well. Basil is a very special pony, if we could we'd keep them all but it's just not practical and he can go and give joy to another family. The challenge this evening is to stop Urssie sleeping in Toddy's stable and to make sure the new pink rug doesn't end up on her bed!
Aside from the trip to Wales we also had a good trip to the gallops with the horses aiming for Gatcombe and Aske Hall over the coming weeks. They all galloped well which was pleasing.
I'm working horses at home tomorrow and also going show jumping to Allenshill with a few. Let's hope the winds drop as otherwise show jumping may be quite exciting.
Cheers,
Bill
Posted 12th September