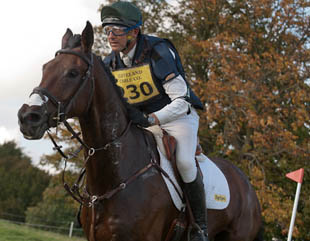 Yesterday we were at Aske Hall, it was a long day but well worth the trip. It was an early start for us all but that's how it goes sometimes.
The show jumping is always up to height at Aske Hall and seems to cause a lot of problems, and this time was no exception particularly as the ground in the show jumping became holding and a bit deep and tacky by the time I got to jump some of my intermediates. There were few clear rounds.
The cross country is educational and a good fitness run. There is a steep hill at the beginning which always takes a bit out of a horse but the ground is good. At about fence 12 there is a skinny on a sharp turn on 5/6 strides to a brush corner, two strides to another pig arc skinny which is educational. The water is straightforward but a good experience; you jump directly in to the water and then go 4/5 strides across the water and then bounce out over a house which is a good little test for a horse. There is also a skinny log going in to a wood followed by four bending strides to a skinny log positioned right on the top of a very steep bank which is an unusal but good test for a horse.
Anyway back to the beginning Alex was first up in the novice. He's now pretty established at this level although he broke in to canter in one of the leg yields. He jumped a nice show jump round and was unlucky to have a rail and then went well cross country, jumping clear with a few time penalties. He feels much more grown up cross country now and will be ready to step up to intermediate next year after a break over the winter. He's still a big horse so it's well worth being patient with him.
Once Alex was done I had Fin, Alfie, Sunny and Womble in the intermediate, Womble being a last minute addition as I feel we still needed to sort out our bitting post Gatcombe and pre Le Lion.
All of the horses didn't go as well as I would have liked in the dressage – just one of those days. Sunny took exception to some farm machinery set out on the edge of his dressage arena which he thought was a monster and so wouldn't go in to one corner, Womble tried hard but is still getting established in some of the harder movements. Alfie was a little excited to be out at a party and so didn't do his best work and Fin I thought didn't do his best work but the judge thought otherwise as he was in the lead in his section after the dressage.
It was then on to the show jumping and sadly this was not a great time. I felt I rode well but sadly Fin, Sunny and Alfie all seemed to get a bit stuck in the mud and had rails, Alfie lost a shoe part way round which didn't help him at all. There were very, very few clears and horses who normally jump clear were having rails so I'm not going to beat myself up about it but it was disappointing. Womble saved the day jumping a rare clear to help team morale.
Things also looked up cross country as all four horses gave me a good ride. Alfie, Fin and Sunny were all having their first cross country runs post their three day events. I was particularly pleased with Sunny who felt very secure on his lines. I also finally feel we've solved Womble's bitting challenges. He went very well cross country in a new bit so thanks to Ali for her perseverance  on the bitting search!
Today I'm giving the first of a series of hunting clinics which should be interesting! A new experience for me, so I've been brushing up on what I need to cover with a few hunting friends although ultimately my skill is all about giving the attendees knowledge and help to stay safe and have fun cross country. Let's hope it all goes well. I'm sure you'll all hear about it soon enough.
Cheers,
Bill
Posted 25th September: Photo Trevor Holt