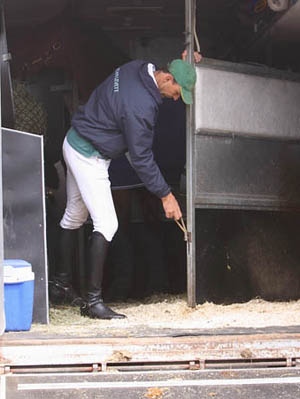 It's been a busy time today at home riding horses and then getting organised for my final event of the season, Le Lion d'Angers in France. I'm currently sat at the docks with Womble, Ali (his owner) and Eleanore waiting to board the ferry. Le Lion is always a good event based at a race course in France, a beautiful setting, and they put on a great event. It has a real 'championship' feel – something we could really learn from here in the UK I feel. I know it costs a lot to put on events but the French do know how to create a competitive yet entertaining atmosphere and draw in the crowds.
I'm hopeful for a good run on Womble this week and have a small sweepstake running with all of the girls as to where he will end up – all will be revealed next week and I'll let you know who wins the wine. Womble is a great jumper, his dressage is still work in progress but I'm sure he will come on from the experience and he is ready for a two star – so I'm looking forward to it all.
We will be travelling overnight from Portsmouth to Caen and then have an early morning drive tomorrow to Le Lion d'Angers, and hope to be there by lunchtime at the latest.
Will keep you posted.
Cheers,
Bill
Posted 17th October