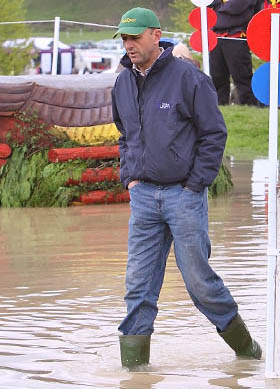 Womble has settled in well after the anxiety of his travels here. He passed the trot up well, the only critique from Ali (Womble's owner) is that she wasn't sure who was more laid back Womble or me! Womble also worked well this morning before the briefing and course walk. Long may his settled attitude to dressage last!
I'd heard a rumour last week from Alec Lochore that the cross country was much more serious this year and this is indeed very much the case.
Thankfully the rain has stopped today and we now have cold and bright weather, nice to have some sunshine to walk the course in. The course is technical nearly all the way except for the last two and first two fences. There are not really any let up fences the rest of the way around. The time is 9.56 and I don't predict it will be a dressage competition. There are quite a lot of combinations on the cross country including two strong water jumps, and a jump off a house to two angled brushes on a really tough angle 3 from home. Lots to think about.  
There are 21 nations being represented with plenty of nice horses. The ground is OK and they are still working on it.
Womble doesn't do his dressage until Friday morning so plenty of time for contemplation of the cross country course and to work Womble for his test.
More updates to come.
Cheers,
Bill
Posted 19th October