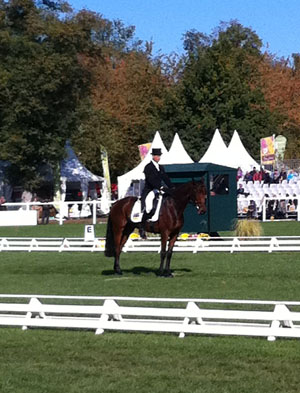 I couldn't be more pleased with how Womble went today, he tried very hard and remained relaxed throughout his test. I said yesterday I was hoping for a test in the 50s and that's what we got, finishing on a 54.5 which leaves us in 29th out of 68 starters going in to the cross country. All of the marks are pretty tightly bunched ahead of us so it will be all to play for tomorrow.
Womble is still gaining in experience on the flat and getting established so I always knew we might be a little off the pace in the dressage phase, but having said that much of his work was really nice today. A few errors crept in during the test including a rather good flying change on one of the counter canter circles! And the errors quite rightly would have cost us dear and so without those I feel the test would have been high 40s which reinforced the quality of the work in the bits that were good as there were some very flash horses on the flat ahead of him in the class.
I personally don't think it will be a dressage competition so now the mind turns to focus on the cross country. The six year olds go first in the morning so I'm not on until 3.15pm French time tomorrow afternoon. Fingers crossed we have a good ride and that Womble and I don't let each other down.
All will be revealed tomorrow.
Cheers,
Bill
Posted 22nd October