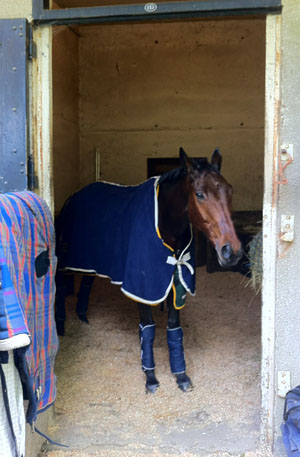 Well today did not go to plan, sadly Womble and I parted company at the second water jump.  Womble has been so good this week, really settled in the dressage and was going well when we had our mishap.
As predicted the cross country caused quite a bit of trouble. Womble  started a little green over the first seven fences but after that he was flying and galloping well, ironically he went particularly well through the first water! We came to the second water and there was a lot to look at and he sucked back on take off and had an awkward jump over first part, a brush drop in to water. This was followed by a sharp left hand turn up a bank and a further drop in to water off a step and again he sucked back a little and jumped in rather deliberately landing rather on all fours and pecking behind. He then bunny hopped forward and hit me up the back side putting me out of the saddle – for a split second I thought I'd stay there but it was not to be.
Devastating.
The frustration, but also the big positive is that he was trying and getting better the further he went. Such a shame but nothing we can do about it now. The ground was fine and he was up on his minute markers until our mishap.
Now I have to put this season behind us and look to next year. It will teach me to be so bold as to write that I think I'm riding better than ever, as since I wrote that in my blog after Hartpury it feels like I've had a catalogue of mishaps, some minor and some more major with more falls in the last two months than I've had in the previous four years! However sadly sometimes it goes like that, and as everyone with horses knows that is the nature of the sport – you can be up and the next minute crashing down.
The important thing is to not get paranoid; yes, reflect on what's happened and think about what I could do differently but not lose complete confidence.
It will be a long drive home tomorrow, but Womble is in one piece, not a mark on him, and I will be fine – just disappointed, especially for Ali who has been so supportive.
Cheers,
Bill
Posted 22nd October