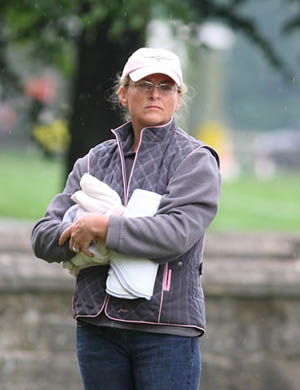 Sunday was a chance for Lucy to get out and have her first event on Clover. Jenny took her to the local hunter trial at Swalcliffe and I followed a little later with the kids – Lucy did very well, jumping a lovely clear and gaining confidence and a rosette in the process. It's nice to get the girls out when they join us and to be able to do some hunter trials and combined training ahead of the eventing proper as they only have to think about 'one phase' at a time.
It was a quick turnaround after the hunter trial as Jenny and I then hit the road with the kids and a rather large picnic to put in some miles looking at horses around and about the countryside. It's at this time of year that we try and get out and look at what is out there in terms of young horses – if you don't look you don't know what is there and we have a few people that may/may not buy in to an eventer this winter – so it's important to see what is available. We did many miles, looked at many horses and have lots to process and digest over the coming days/weeks.
I love looking at horses. They come in all shapes and sizes and I really enjoy seeing what is out there and trying to assess horses for their potential as eventers – and it's something Jenny and I enjoy doing together.
Watch this space.
Cheers,
Bill
Posted 29th October