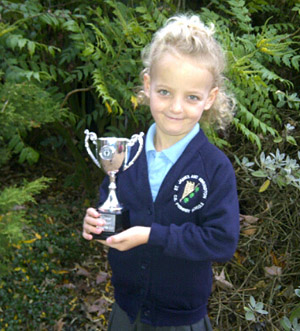 I'm a very proud dad, Ursula has come home from school with a trophy today! The school announced last week that they were going to be starting a new initiative to give out a cup each week to the child who had demonstrated the most courteous and helpful behavior towards others – the child gets to keep the cup for a week and is presented with it at assembly. Urssie won it at its first ever presentation! Bless her – I'm so pleased and proud for her as she's not always been the most confident and yet she is so helpful to others (of course I would say that wouldn't I) during school lunches and play times etc.
I also got to spend Sunday on the touch line being a 'dad' as Josh had his first experience of touch rugby with the other 'minis' this weekend – after a few tears he got in to it and really enjoyed it. I am definitely going to enjoy this 'dad duty' over the coming winter months – and I can already see my competitive streak having to be tempered!
So all in all a great weekend, with a good mix of family time and working horses at home.
Cheers,
Bill
Posted 6th November