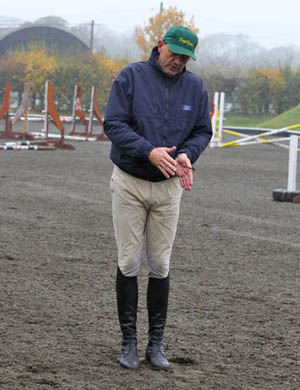 Today was an early start as I set off for Boomerang with JJ and Timmy on board – I was doing an article for the BE magazine, helping two riders prepare for the U18 and Grass Roots Championships next season, and I thought while I'm down there I'd get JJ and Timmy, two young horses, cross country schooled as Russ has a good variety of fences with all weather take offs and landings at Boomerang.
I had been rather dreading the teaching session and associated photos and gathering of material for an article for the magazine as I'm quite a shy person. While I love teaching I don't enjoy the limelight or being front and centre stage – give me people to teach and I'm away but to have to then be photographed and think consciously of coherent things to say for someone to write an article and I'm full of fear!
However I needn't have worried as Fiona was doing the photos and she's a great friend and Ellie, who I know well from the eventing circuit, was constructing order from my ramblings as I taught – so I needn't have worried and I think/hope they got what they needed and most importantly the people I was teaching today, Rachel and Georgie, seemed to both have a good time and take something out of the sessions, on the flat, show jumping and cross country – phew!
My day got more exciting in the afternoon as Timmy was having his first cross country school and JJ only his second. Although the getting ready was just as, if not more, exciting than the actual schooling as both horses decided to act like complete babies about being left alone while I schooled the other horse and while I tried to tack them up so I had rather a trying afternoon – however they will have come on from the experience. I was really pleased with how much JJ had come on from his first outing, he seemed to have remembered what we did last time and improved from that. Timmy took it all in his stride and while it took me some time to get him off a step and in to water once he got the hang of it he was good and tried hard, and he feels like he's got a good stride and jump and will give his sister (Minty) a run for her money next season.
A long day but well worth it. It's important to give the young ones a good grounding and show them lots of different things – they also come on from the experience of being taken to different places hence it's worth making the investment in time to do so while things are a little quieter.
Cheers,
Bill
Posted 7th November