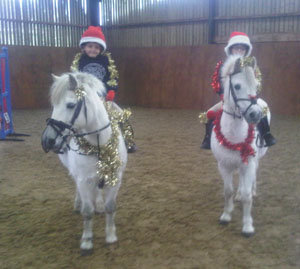 Today it was the turn of the 'minis' within Team Levett to get out and show their competitive streak. Josh and Ursula took part in a Christmas show jumping rally for the 'minis' in the North Cots Pony Club which they belong to. As you can see from the photo we got in to the Christmas spirit of the day – the kids had a great time and I was happy as it was 5 minutes up the road and in a nice warm indoor school with mince pies on tap!
It was a great note for the kids to end on before we head to Oz for a couple of weeks as Ursula in particular has turned a corner with Toddy – it always takes time to adjust each time we all start to ride a different horse or pony, the same applies whether you're a child starting out or a pro like me with many years experience. Ursula has persevered and Toddy the pony has also done some adjusting to a smaller child and together they now make a  great partnership. So there were many smiles today. Josh and Slipper continue to be a great partnership – with Josh showing his usual eye for the jumping and enjoying that bit the most after a bit of a wobble at the beginning when they are charging about as a ride with no jumping.
Other than the rally its been business as usual this week with riding and training of horses and giving the girls help with their work. I've also managed to get a few jobs done around the place including one of my least favourite jobs clearing all the gutters of leaves – I get all the glamorous jobs!
I'm off to Bettina's for two days training with four horses on Monday afternoon and Tuesday morning which will be fun. Clare has also kindly been coming over a couple of times a week to video me training at home and I then watch it back which is very helpful in terms of ensuring I'm training as correctly as I'm able – so we're definitely focused here at Team Levett.
It will be nice to have a short break and some sun at Christmas and I'm really looking forward to seeing my folks. But before then there is still plenty to get done and that includes getting back outside now in the cold and wet to finish riding.
Cheers,
Bill
Posted 11th December