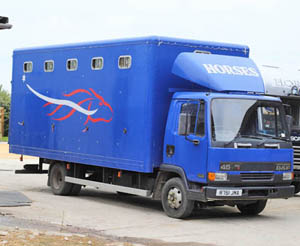 Today is Josh and Ursula's seventh birthday – hard to believe, I don't know where the time has gone!
The day started rather early, driven by jet lag and not helped by the aerator in the fish tank we'd given Urssie (sounds grand, it's only for one fish – crazy requirements for a goldfish if you ask me) starting to make some strange noises at 3am! So Jenny decided to get up and work, while I tried to convince the kids to go back to sleep and failed. So I gave up and tried to make them pancakes as a birthday breakfast and again failed as they didn't come up to scratch vs Nana's! Never mind, it's the thought that counts!!
The day then got much less eventful as I focused on riding until late in the afternoon when I got a call from Clare who had borrowed the blue lorry to drop Alfie, Ricky and Tommy back to us – she rang to say that she was stuck in Halford as the lorry's wheel was about to fall off! Thank goodness none of them were hurt and Clare had the sense to pull up when things 'didn't feel quite right' but all very odd and hard to understand as the wheels haven't been changed/touched.
Anyway myself and Alistair (our helpful mechanic) mobilised to rescue horses from the layby and send lorry via a tow truck to Alistairs for some TLC and urgent repair.
After so much excitement for one day I'm hoping for things to quieten down for the rest of the week.
Cheers,
Bill
Posted 11th January