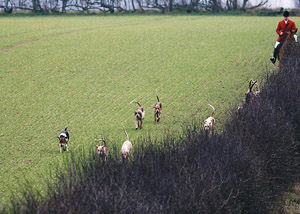 It's been an action packed day at Little Charingworth as the hunt were meeting on the next door estate and the foxes had great fun using our property to play hide and seek in! Luckily the start of the hunting got pushed back until midday due to the heavy frost so we were able to crack on and get all of the horses worked before the fun and games began.
It is amusing to watch all of the different reactions of the horses to the hunt being around – it is easy to tell the difference between those that have been out and get it and those that are ignorant to what it's all about. All were safe and sound in their boxes so all was well, despite the hounds deciding in was interesting to explore the stable barns and our garden at one point!!
We and a few friends watched from our garden as the hounds and fox and field played a game of 'cat and mouse' across the fields and countryside around us; the fox won out and got away which I was secretly pleased to see. It's amazing how much ground the hounds appear to cover in a short period of time from what I can observe.
Anyway it was an interesting distraction from mending field drinkers……. I get all of the glamorous jobs. Tomorrow I'm off to dressage lessons with Bettina which I'm looking forward to.
Cheers,
Bill
Posted 14th January