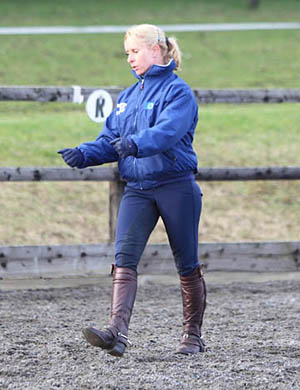 I've just had two days of lessons with Bettina – and first and foremost hats off to Clare who stood and videoed me for two half days in the bitter cold with a stinking cold  – she deserves a medal! I'm very grateful for the videoing as it enables me to watch the lessons back as much as I want and I always pick up extra bits that are useful and reaffirm things between lessons by revisiting the lessons on the video.
We now have a great system with the lessons, and I'm also very grateful to Tim and Jonelle for housing the horses overnight as it enables me to work my horses at home and then have afternoon/evening lessons with Bettina in Tim and Jonelle's lovely indoor and then the horses stay overnight and I have lessons the following morning and then come home to ride and teach at home in the afternoon.
For me dressage (and ultimately training horses) is a never ending process – which is both the fascination, and at times the frustration of this sport which I love. Every time I have a lesson I feel more pieces of the puzzle slot in to place but I'm convinced I will never stop learning. It is a constant learning process and I never feel like I've accomplished it, I feel like it is vital to have help and I have clicked with Bettina's approach and methods. She is tough with me, but that's OK and I feel I'm still improving all the time.
I feel the horses are all going better but that there is still much room for improvement and that it continues to be a challenge to ensure I achieve more consistency in the training so that less is left to chance when it all really counts, in competition.
So a satisfying couple of days of lessons with Hipp, Coco, Ricky, Alfie and Tommy.
Cheers,
Bill
Posted 8th February