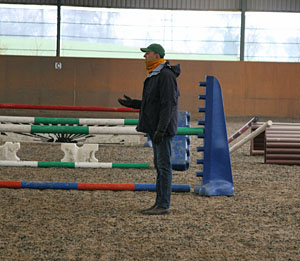 My life is never dull and it is one of the things I enjoy most, the fact that my life is very varied with no two days being the same, and also that the days often involve lots of people interaction as well as the obvious involment with horses!
I've had a busy weekend, schooling horses and doing quite a bit of teaching – first up were the West Warwickshire pony club and they all did a valiant job to stay positive despite the fact that it was sadly blowing a gale. We still managed to get a lot done and I think the kids all enjoyed the exercises we did to try and help improve their cross country riding.
I then was up near Lincoln on Sunday where it was bitterly cold – and despite my 8 or so layers I was still frozen through. Standing in a school is not a good recipe for staying warm and now I appreciate how Bettina must have felt on those bitterly cold days in December and January. I taught a whole range of different people on Sunday from all walks of life and different abilities/experience but they all had one thing in common and that was they were all positive, had a sense of fun and a desire to learn and so that makes teaching rewarding, particularly when your toes are like ice blocks!
Looking forward to being back in the saddle tomorrow, as for one thing I'll be a whole lot warmer!
Cheers,
Bill
Posted 19th February
Photo Hilary Manners