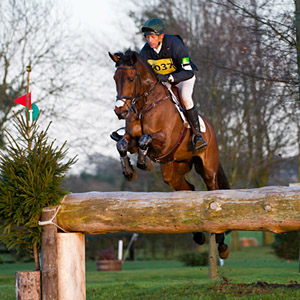 It's been a long but very productive day today at Lincoln. Alfie (pictured) was the star of the show in terms of prizes, topping the score sheet with a 4th place but all of them went well.
Ricky and Coco were up first up. Ricky got something in his ear during the dressage which was frustrating but he worked in well outside and I know he is improving and will do a smart test. Coco felt much more grown up, his trot work was some of the best he's done. He struggled to contain his excitement at being out in some of the canter and walk but still scored well. They then jumped lovely clear rounds in both the show jumping and cross country and will have come on from their rounds as the track is very educational.
Fin and Alfie came later in the day and Alfie did a particularly smart test scoring 25, the judges do love him. Fin also tried hard and did a good workman like test, coming on from Oasby and there is lots of improvement to come. The ground got increasingly deep in the show jumping during the afternoon although they went to great lengths, moving fences to try and help the horses. Both horses jumped well and were unlucky to have rails and I'm not concerned as I feel, based on today, they will both jump their fair share of clears in the future. They then both went very well cross country, particularly Alfie who seemed to eat the course for breakfast.
So all in all a very good day. There were lots of top horses out for an early season run and you can see why people make the effort to come to Lincoln as the course is beefy enough for an intermediate, with lots of interesting combinations eg coffin, bounce, bank to a skinny, all of which are educational for a horse, and interesting combinations to ride round.
So well worth the trip.
I'm back to Swalcliffe tomorrow to school the horses that got balloted and Dotty around the course as it is still flagged up. I'm also taking Crunchie so he can get his feet wet, and a couple of the WPs for their first cross country school so it should be a good day.
Cheers,
Bill
Posted 18th March – Photo Trevor Holt