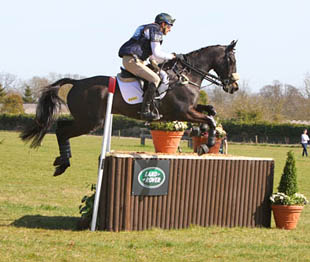 It's been another glorious day at Gatcombe in the sunshine and I was thrilled with how Sooty went in particular, even more pleasing as it was the first time that his owner Lynda has been able to see him run – so really satisfying. Sooty is a horse that seems to always rise to the occasion. He is still new to me as he only joined us at the end of last year and I've only competed him this season, however so far he's delivered on every question asked of him, winning his first event and going double clear at his novice and intermediate run since. I'm hoping to aim him for Houghton CCI** if he gets his qualification at Burnham Market. He has bags of scope and stride so makes it all feel very easy, and has a trainable brain.
Hipp was also having his first run cross country in a while and he hummed along; he was a bit fresh in the dressage and so I didn't feel I got his best work but he scored well. He then got a bit tense in the show jumping and rolled a couple of poles but nothing I'm worried about. He will relax in to things, he's not been out for a while and so he was very excited to be eventing again. He went around the cross country like the old pro that he is which was great news.
Womble also did well today, just rolling the planks in the show jumping, frustratingly as he had a little look, but jumping like a top the rest of the round and then going well cross country. He was just a bit green going in to the water but in some ways that's not surprising given the ducking he got at Le Lion poor chap. He will benefit from a couple more runs before he heads to Houghton.
So all in all a good day at the office, and nice to be working in such glorious weather – although I hate to say it I would be glad for some rain now as I'm worried the ground at the spring events will quickly turn to concrete which none of us will want.
Cheers,
Bill
Posted 25th March