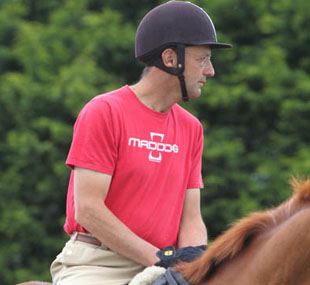 It's been a good few days focusing on improving the way of going of the horses and getting out show jumping and having more dressage lessons.
I took a few of the young ones and some of the working pupils, Hannah, Becca and Laura to Allenshill on Tuesday to do a litttle more show jumping practice. Dotty continued as 'teachers pet' as she takes to it like a duck to water. She just loves her jumping and gives me a great feel over a fence. Crunchie was having his first attempt at a show jump course away from home. He was a bit fresh to start off with then then settled but did not really stop at anything, he seems such a generous little character.
Today it was lessons with Bettina again and I think we had a real breakthrough with flying changes and the general way of going of the horses. Let's hope it can be transferred to the competition arena.
Certainly been warm the last few days, was even in a t shirt today! Gallops tomorrow and then we head to Belton on Friday.
Cheers,
Bill
Posted 28th March