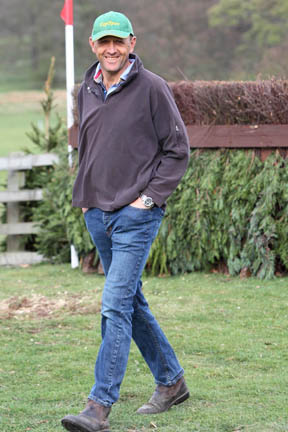 It's been a good day at Belton today despite the early start – any departure time that requires us pulling out of the yard before 5.00am is never pleasant for me (as the driver) or the girls (as they have to get the horses ready, but can then sleep on the way). The ground was surprisingly good considering the dry time we've been having so I was very relieved about that as I had been concerned that it might be rock hard. All the courses have a nice variety and are on the strong side for their respective levels but not stupid. The novice track rode well today and was very educational for the horses.
Minty was doing her first novice so it was interesting to see how she went. She was still green and tense in the dressage – she is such a tense horse, she is constantly on edge and thinks everyone is going to gobble her up so she struggles with the dressage as she is not a big mover and when she's not relaxed she doesn't create a great picture. However she tried hard in the jumping phases; she had a couple of rails in the show jumping – again through tension, but she tried hard and was not out of place vs with the step up in level. She also went reasonably well around the cross country. She was green in parts but that was to be expected, but she always went – she now has a pretty good partnership with me and so despite her anxiety she does trust me and takes confidence from me which enables her to take things on. So overall a pleasing first outing at Novice level.
Tommy and Lala were also doing the novice and both of them are also green at this level, for Tommy this was only his second novice run and Lala has only done a handful and one with me. So again it was a learning curve for them both. I thought Tommy did a great test but the dressage judges didn't seem to be quite so keen! Never mind, it goes like that sometimes. Tommy then was unlucky to roll a pole at the last fence in the show jumping. He was then spooky but bold cross country – being green at the fence dressings as much as anything and in between the fences, he's a character but he will settle and he feels like a class act. I was also very pleased with Lala who has come on from her run at Gatcombe. She was much more confident and took on the cross country – she is a very careful jumper and gave me a good feel in the show jumping and cross country this time out and she is improving on the flat – I have to remember she is still very inexperienced in terms of eventing and so I'm sure she will come on well given the improvement between last week and this. So again pleasing with both of them.
Fin and Alex were also doing their dressage in the 7/8 year old specialist class for young horses – both of them didn't give their best performance in the dressage arena, but there was a lot of atmosphere and they will have benefited from the experience – Alex in particular found it very exciting to be in such a party atmosphere and didn't relax at all.
Back tomorrow for the rest of Alex and Fin and also Alfie doing the Intermediate and then Coco, Ricky and Hipp are doing dressage for the advanced. It will be interesting to see how all the courses ride and how my horses cope with the step up in level and variety in the cross country tracks. On the Advanced and 3 star there is a difficult corner preceeded by a rail and ditch. The drop into the water complex is also very big. All the courses will be educational and for Ricky, Coco and Hipp – I will certainly find out how far off they are from being ready for their three day event goals.
Cheers,
Bill
Posted 30th March