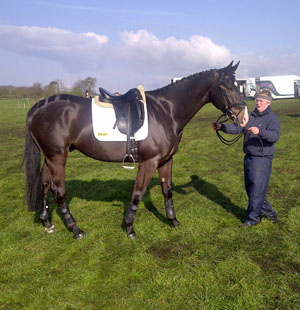 Well the 4am start this morning has been well worth it, we headed north today to Kelsall with a lorry load for myself, Darian and Jenny to ride.
I'd heard that they had invested heavily over the last 18months in designing and building new cross country courses from BE80 to Intermediate. I also knew, having given clinics there in the past, that the ground would be excellent and that it would be a good viewing course. Suffice to say it delivered on all fronts.
We will definitely be back, and I'm sure the event will grow and grow in popularity. The tracks were all interesting, with a good variety of fences and beautifully built and presented.
The show jumping was also in a specially made arena area and had a big event feel, and they had gone to a lot of effort with stalls, a farmers market and other attractions for visitors.
The ground held up remarkably well considering the recent weather with every other event in the UK cancelled this weekend! We were able to drive in and out of the event despite the rainfall this week.
The ground on the cross country was perfect as it is level and sandy and they had clearly prepared it over the last 12months plus it had great grass cover.
The intermediate had a couple of interesting questions on it; a double of corners and also a bank drop to a skinny fence. The novice was well built with a double of corners and a range of well presented fences and accuracy questions.
The dressage arenas were in a level area and away from the cross country. The best aspect for owners is the viewing from the cross country. You can, like Barbury, see every fence on the course by standing in one spot which is a real treat.
The horses also all went well today which always helps! Fin and Womble both won their intermediate sections. It was a good cross country prep run ahead of Houghton where they are both doing the CCI 2 star.
Alex was doing his second intermediate and he went very well, unlucky to role the first pole in the show jumping and then jumping a lovely clear and he was very mature cross country. So that's exciting for the future.
Lala was a little excitable and not feeling particularly cooperative in the dressage but she again produced a good double clear to finish 9th. JJ had his first novice outing and was very honest and had a go on the cross country, jumping clear.
Darian and Jenny both jumped double clears which was pleasing as the show jumping caused a fair few problems and, most importantly of all, Darian secured her final qualifying run for Houghton.
So all in all a good day at the office and tomorrow we have a day at home with the family which will be a real treat.
Cheers,
Bill
Posted 21st April