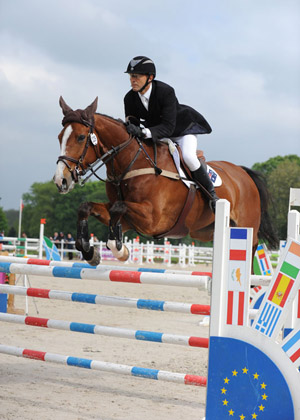 Well it was a long wait at Jardy today as the show jumping didn't start until 4.00pm local time this afternoon. Both horses trotted up well this morning and felt very bright when I took them for a hack after the trot up. They didn't seem to be feeling an ill effects from the previous day's cross country which was good news.
The show jumping track was big and square and up to height, I was pleased in many ways that it was a proper jumping test as firstly I'm on real jumpers and secondly it's the kind of preparation I wanted for Saumur. Hipp was first to go, going a little early out of order, and he jumped a cracking round, he was unlucky to role a pole, rider error really as I got him a little off an oxer when he really prefers to be up to the front rail at all times – he jumped brilliantly and I couldn't have been more pleased with him.
Coco was up next and he also jumped a cracking round, just tipping the second fence as he annoyingly decided to do a dropping just as we jumped the fence – VERY annoying! However the track caused a lot of problems and there were very few clears and the time was tight. So even with four faults I moved up the order, with Hipp finishing in 6th spot and Coco in 2nd, pipped by just 0.4 by Clayton and Bendigo – will make sure Coco takes care of his business before going in to the ring next time – blasted horse!
All in all, in all seriousness, I am very pleased with how the horses have gone this weekend especially in the jumping phases – I know what I need to work on ahead of Saumur in 10 days time so bring it on.
It's a mad dash to the ferry this evening and all being well we will be home tomorrow mid morning. I hear its been a beautiful day at home, perfect cross country weather – so frustrating that we weren't running cross country at Badminton today but such is life.
Cheers,
Bill
Posted 6th May – photo Xavier Boudon/www.pixizone.com