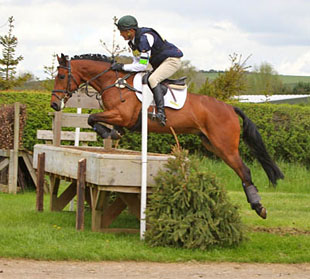 It's been a good day at Aston today with the young horses. It was great that Nigel and Ann Taylor were able to run the event today and good to get the horses out. The sun shone all day and the breeze kept the rain clouds away.
The young horses were very excited to be out and despite them progressing at home on the flat things went a little astray today – nothing to worry about longer term as they are all good horses and just excited to be out. Also, given the ground was still very wet, we didn't lunge any of them as we didn't want to chew up the Taylor's ground.
Timmy came 7th and they all went well with double clears although I collected a few time on most of them as they were off the pace in the dressage.
My most exciting moment was on Robbie in the show jumping when in the midst of jumping a lovely clear he and I had a disagreement about getting to a fence and I managed to step off the side!
Never a dull moment. Tomorrow is a busy day at home riding the Aston horses for Monday and then the Saumur and Houghton horses. I'm back at Aston on Monday with Lala, Womble and Alex before heading to Saumur with Hipp and Coco on Monday night.
Cheers,
Bill
Posted 12th May