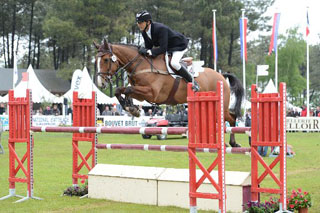 Well we've just finished up at Saumur and as often happens with horses things haven't gone to plan. On the positive side Coco and Hipp both seem to have come through the event well physically and have ended up in 5th and 6th place respectively. However sadly they both had two down and without those rails we would have moved up significantly. It just wasn't our day – one of those things. Gutted but sometimes it goes like that.
Better news it that Clayton is doing OK and should be back on UK soil and out of hospital soon enough. Best wishes for a speedy recovery to a good mate.
Off to catch the ferry.
Cheers,
Bill
Posted 20th May – Photo Les Garennes