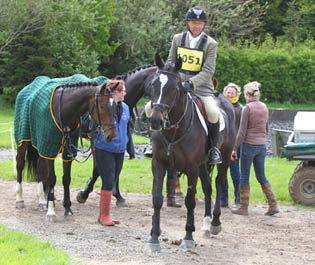 We've had a lovely family day out at Ascott, and some success as well – as Tommy ended up second in the BE100Open after an excellent dressage of 22 and a very steady double clear. Dotty and Robbie also had a good outing although both were a little green in parts, but that's young horses.
Laura and Jenny also had a good day with Laura going well on Bertie and Jenny having a safe first outing on Crunchie – ending the day with me saying 'she's in love again'! We've managed, thanks in no small part to our friend Ali, to find Jenny a great project to replace the rather large hole left by the sale of Mac. He's got cracking paces and a great jump – very green still but a great brain and it will all come in time.
My thanks also go to the Badgers for inviting us to a lovely lunch – an added bonus and much fun was had ribbing me for my laid back attitude as I managed to eat rather a large plate of food 30minutes before I went cross country!
Back tomorrow with Minty, Timmy and Silver hoping for an equally good day, and hoping not to be outdone by Josh, Urssie and Jenny who are all heading to their Pony Club show – Jenny is hoping not to be beaten by Josh and Urssie in the barrel jumping and Chase Me Charlie!
Cheers,
Bill
Posted 2nd June