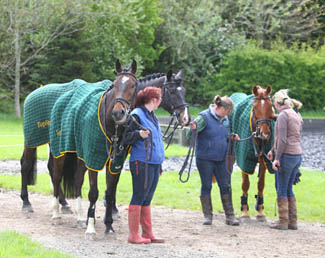 I'm writing this at home AGAIN as Catton Park has sadly had to cancel its first day of competition. I'm gutted for the event organisers, support team etc and for all my owners, team, horses and of course myself!
This is now all getting very boring. I've got horses in the yard that have had 6 or 7 of their last runs now cancelled due to the weather and are in desperate need of a run, particularly some of the novices. There is nothing that can be done and it's no one's fault but it is frustrating never the less. Particularly as we entered Catton firstly because it's an event we like BUT also because we couldn't imagine that cancelling as it always seems to run given its sandy ground. Ironically Nunney is running this weekend which is further south………. It's all such a lottery.
They are reviewing whether Catton will run tomorrow, so fingers crossed that will be OK.
Instead today I will be riding this morning and then glued to the computer screen watching Luhmuhlen cross country this afternoon. My peers are going very well over there which leaves me torn; on the one hand I'm pleased for them but on the other hand I'm even more pessimistic about my chances of personal selection for London as a consequence.
It remains a waiting game for both the Olympics and whether Catton will run!
Updates as ever in due course,
Cheers,
Bill
Posted 16th June