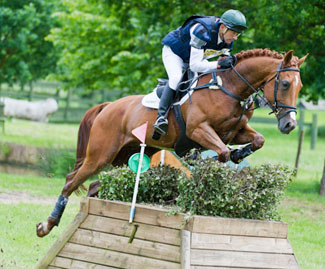 It was great to be out and about eventing again at Catton on Sunday. I was very grateful to them all for all the effort they had gone to to put the event on.
I didn't have the best of days: Silver, Tommy and JJ were the stars of the day with Tommy doing the best dressage, scoring a 24, and then going well in the jumping phases having an unlucky spooky rail and a lovely mature cross country round. Silver did a lovely double clear – she was a little green in places cross country but went well I felt and will have come on from the run as she is still very inexperienced, and she now has her first point. JJ also tried extremely hard for only his second novice outing and is one step closer to qualifying for Hartpury.
I was very pleased with all three of them as they've had such a stop start Spring with so many cancellations. Through no fault of their own they have only competed sparingly which can make it difficult to build confidence and a firm grounding with a horse.
Alex and Lala didn't have the best of days in the intermediate and I felt both were green today, which is to be expected as both of them were only doing their second intermediate and haven't been able to run for over six weeks due to cancellations. With hindsight I wish I'd done a novice this weekend to get them back in the groove and intermediate next weekend at Salperton. However there is no long term harm done, just never any fun for anyone to have a cricket score in the show jumping. Neither of them jumped badly, they just looked out of practice and got a bit stuck in the mud, and looked as if they need more mileage in the ring at this height.
I like Catton as they always try to put on a good event and work hard on the ground. The show jumping is up to height with lots of related lines and the cross country is interesting with lots of variety. It had some new fences, of particular note on the novice I thought the 4th fence was big and upright and wouldn't have been at all out of place in an intermediate, but it rode very well. The corner near the end was also a good little test on the lip of a hill at the top of a steep down and up bank. Sadly this caught out Bluey and Jenny who had gone brilliantly until then two from home. She got him over it in the end. A good test as not a question one sees often.
The only fence I don't like on the course is in the intermediate and where Lala and I had a blip: the trakhener. It's hard to see in the dark with branches over hanging it – poor Lala, who is not very experienced cross country, didn't see it and cantered straight in to it, chesting it. Luckily she stopped otherwise I'd have been in trouble. She was very brave though as I came around again and she jumped it nicely. I also had an awkard jump on Alex there, a fence I'd like to see on the bonfire!
Overall though it was great to be out competing again. I'm hoping the rain doesn't come in the downpours predicted and we get to run next weekend at Salperton and crack on again, although I fear the forecast is not great.
Luhmuhlen proved interesting watching at the weekend. I'm not sure what it will mean for the selectors who are meeting today to debate and agree the Australian team. Hard to not think about it but nothing can be done now. Not long until we will all be out of our misery and the stress of waiting and not knowing. I'm hoping for good news but fearing the worst.
Cheers,
Bill
Posted 18th June – Photo Trevor Holt