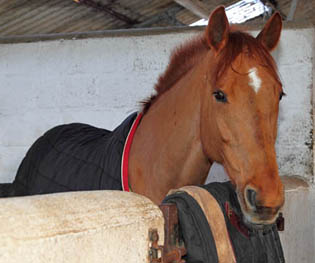 Today we all waved good bye to Fin – who left for his new life in America looking very smart, with his new headcollar, boots, and rug. He will be much missed by all at Team Levett. He's gone off to a lovely new life and I'm sure will give his new owner a lot of fun and success.
It has finally stopped raining and I'm busy working horses while the sun shines before heading to Barbury tomorrow for some dressage with Coco, Hipp, Womble and Tommy – it is always good to get out and get some match practice – so I'm looking forward to that. The weekend brings Salperton and, rain permitting, a full schedule of competition with Alex, Coco, Hipp and Lala running on Saturday and Tommy, Minty and Silver all running on Sunday.
There's been much speculation about the Australian eventing team but I cannot comment on anything (according to the contracts we've all signed – hard to believe isn't it, if you see what's out there in the media!) that may be circulating in the press/on line.
Bonkers world we live in that nothing seems to be kept confidential for long and rules seem to be respected in different ways by people – enough from me, I can only be responsible for my own actions.
On a brighter note I'm taking Josh and Urssie to a cross country rally this week – I'm looking forward to watching them have a good time and hopefully learn a bit. It's a rare treat for me as I'm often not around when they are riding and going to pony club.
Cheers,
Bill
Posted 19th June